European English Teachers' Seminar 2013

"Thank you for a lovely and very useful week. Congratulations for the work you do!" GSG, Romania.



"Been here before! Excellent as usual! Thank you!"

PP, Denmark.



"Absolutely all sessions were interesting and worthwhile, very inspiring, large range of topic. Our host was very very nice and did everything to make us feel at home."

WL, Germany.



"The programme had a great balance between different kinds of days, seom more packed with programme, others less! Ealing is an extremely nice place! Sarah Davies was such a nice person and helpful with very good recommendations!"

MLC, Finland.



"Thank you very much for this Seminar. I take a lot of ideas home. I am going to use methods (teaching literature and possibly poetry) right away when I start in August!"

SVE, Germany.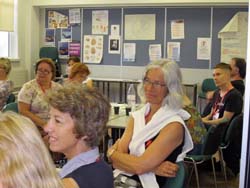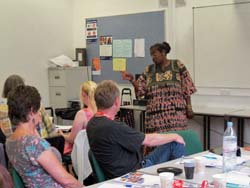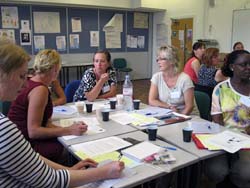 "Working with poetry and creative writing was very useful for getting my pupils to start writing both poems and texts. The host family was very friendly! They were welcoming and helpful and served excellent breakfastsw! Lovely house!"

SHE, Norway.

"Modern Fiction in the Classroom was the most interesting for me. The session provided me with an update of modern fiction texts and gave me some practical tips that I can apply and include in my teaching. All in all a very informative and inspiring Seminar.

I hope to keep attending, probably next year!

" JNB, Denmark.



"Everything was worthwhile! Sandra Agard and Patience Agbabi gave the most memorable presentation."

TT, Finland.



"I was on this Seminar years and years ago, and am here again. Thank you!!"

GS, Germany.



"The handouts will be a great help for my future lesson plans. The Resource Roundabout is a great idea. All the attendees in my group took the assignment very seriously (I chose speaking and listening). All had very helpful suggestions and ideas."

EV, Italy.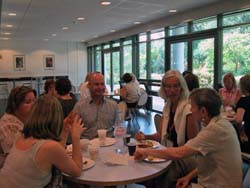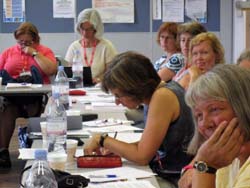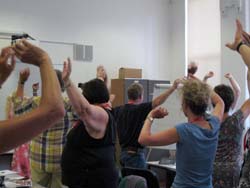 "Sandra Agard was very energetic and positive. Good timing to have her come in on Thursday when everyone was tired! Tony Thorne - very useful in relation to discussing language with my students - learned a lot!"

MBT, Denmark.



"The host family was very good! Location perfect for college, tube (Mary) was interested in us and very helpful, had nice talking session with her. Highly recommended! Ealing is a nice neighbourhood, very eacsy access to central London. Theatre visit great, the play was a great experience! Enough time for our own cultural activities."

MH, Finland.



"Thank you for the great lunch. Fruit and vegetables - that's important. I was very glad that I did not have to go shopping for food."

GK, Germany.



"I found ALL the sessions interesting and illuminating."

EH, Finland.



"The Globe was the absolute high point! Patience Agbabi

was wonderful and I did like Kieran McGovern's lecture!"

AT, Finland.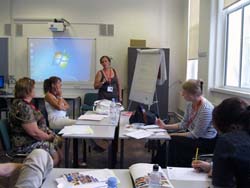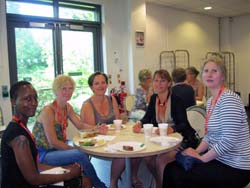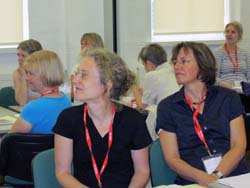 "Tony Thorne's language lecture was very interesting and inspiring, and I did likewise enjoy the energy or Patience A and Sandra A!"

MV, Norway.



"I have enjoyed the course very much. It has been very very useful!"

ABR, Norway.



"Attending the ETS is a "tradition" in our school - Everything was so interesting, so difficult to choose the week's highlight!"

DP, Norway.



"It's been a very very nice week.! Thank you!"

BHL, Norway.



"Everything was very good! Patience Agbabi tops my list - because of her personality, her performance of poetry and because she made me write poetry."

DRS, Denmark.